Singing for Health and Happiness is using this unprecedented time of our lives to get it's online act together.
Singing to improve our mental and physical health is needed more than ever. That's why. as we can't sing together in a room at the moment, we need to sing together in our own rooms. To that end, I have posted S4H&H's first video on YouTube, and here it is…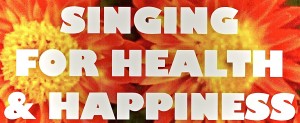 In this video, you can warm your voice up with a silly nonsense song, enjoy singing 8 songs to backing tracks and allow beautiful images of spring in my county to restore your mental wellbeing.
Singing for Health and Happiness does exactly what it ways on the tin! And the songs chosen for this video do exactly that. Here is the playlist…
Oh Carol – Neil Sedaka
Let it Be – The Beatles
Great Balls of Fire – Chuck Berry
There's a Kind of Hush – Herman's Hermits
Close to You – The Carpenters
You must Do a Tango with and Eskimo – Alma Cogan…
Moon River – Andy Williams
We'll Meet Again – Vera Lynn
I've also included music extracts with the chosen images as a means of calming the soul and mind. They are…
Benedictus (from The Armed Man) – Karl Jenkins
The Lark Ascending – Ralph Vaughan Williams
Nimrod (from The Enigma Variations) – Edward Elgar
This is the first of many videos which will help people, through singing, to improve their sense of good health and happiness. S4H&H has been going now for nearly four years, and in that time I hope that I have brought, through the joy of singing together, some extra value to the lives of participants. We meet at 3 venues in Hereford
St. Martins Church Hall, 89 Ross Road, HR2 7RJ (2nd & 4th Fridays of the month @ 10.30am)
United Reformed Church, Hampton Dene Rd, Tupsley, Hereford HR1 1UJ (1st & 3rd Fridays of the month @ 10.30am)
The Courtyard Centre of the Arts, Edgar Street, HR4 9JR (Every Tuesday in term times @ 10.30am)
and one in Abergavenny
Holy Trinity Church,Baker St, Abergavenny NP7 5BH (1st & 3rd Wednesdays of the month @ 10.30am)